When I say brick & mortar, I mean not online. There are plenty of ways to make money online, including syncing deals, streaming songs, and FaceBook concerts, just to name a few. In this article, I will focus on how I have earned a living as a musician in the real world: playing gigs. 
This post is the first in a series where I will be going in-depth on selling merchandise, playing house concerts, selling CDs, teaching, getting hired as a worship leader, and obtaining studio work. All of which are solid brick & mortar stuff. So before we dive into our first topic of good old-fashioned live performance, let's get some groundwork established. 
4 Hours of Music 
So let's start with the elephant in the room. In order to get a local gig at a restaurant, bar, or country club, playing from 6:00 to 9:00, you first have to have enough music to play the gig. And some gigs are four hours. Every business has a certain amount of work that has to be put in on the front end before income is made. With this business, it's learning 4 hours of music and rehearsing, rehearsing, rehearsing. 
You will have other musicians competing for jobs, so you need to think about what makes you unique. Perhaps you perform primarily yacht rock music. Or maybe you play familiar music but in a  Floribbean Raggae style. Whatever you decide, you have to keep the audience in mind. They are your actual customers. Keep them happy, and you will keep getting work. 
Website 
Just because you have a brick-and-mortar business doesn't mean you won't need some online tools because you will. First and foremost, you must treat your music as a business. You must have methods to keep track of gig schedules, clients, and income. I have a website where I publicize my performance schedule, bio, and live videos. 
The best place to get a musician's website is Bandzoogle. (I am not affiliated with any companies mentioned in this post.) You can set up a site quickly with hundreds of band and solo website templates. They also have every tool you will need for uploading songs to your site, sending out newsletter campaigns, etc. I have had a Bandzoogle site for over a decade now and I'm not trading it in any time soon. 
Bandzoogle has tools to help you get your own URL right on their site, and if you want to be taken seriously, try to get a URL that is yourname.com, If it is unavailable (It probably is) search for yournamemusic.com or yournameguitar.com. If you are a band, search for the name of your band followed by the word band. You get the idea. The last thing you want is a URL like jelly34bean123.com. It really won't look professional on your business card. 
Business Cards 
This brings us to the next item on our agenda - business cards. And yes, this is also a must. The best place to start is Vista Print. They have templates galore and great pricing. Just make sure it looks professional and is easy to read. Now is not the time to get creative with your fonts. 
From now on, you will carry your business cards with you every time you leave the house. You never know from where your next gig will come. 
Now that your website is up and running and you have your business cards in your pocket, let's get started.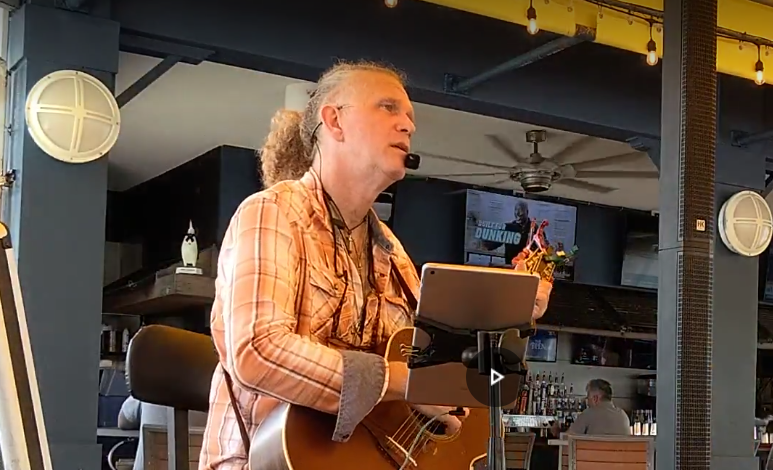 Local Gigs 
Before being hired to play on nationally-touring shows, I made my entire income through local gigs. At one point, I played four nights a week and twice on Saturday - one happy hour gig around 3:pm and then a night gig as well. 
Most of these were high-end restaurants and yacht and country clubs. So don't let anyone tell you there isn't money to be made from just performing, I made a pretty good living for many years just playing local gigs. 
Get Your 1st Gig 
The best time to talk to restaurant managers is between 2:30 and 4:00. Lunch is over, and the rush to get ready for the dinner crowd hasn't yet started. But it might not be the manager who handles the music program. I will tell you what has worked for me. Make sure you have eaten at the establishment a few days before you approach them about a gig. You want to have a reason to complement them. And by the way - I never play at an establishment if I can't recommend it to my friends and family. So what you say must be honest. 
Just walk up to the bartender and say: "Who is in charge of hiring musicians here?" That will get you pointed in the direction of who to talk to. If s/he says "Jeremy, he's one of our managers."  Say. "Is Jeremy here? Can you point him out to me?" 
Once you are in front of the right person, say, "Hi Jeremy, my name is Joe. I'm a local musician here in the area and I love your place. I had the eggplant stack last week and it was amazing. I would love to be a part of your music program here. How do I get started?" 
At that point, you may be directed to a certain agency they hire through. You may be asked to audition. Whatever the case, you've taken your first step. Some places may ask you for a promo pack. So go create one. Some places may tell you they are not hiring any new musicians at this time. Ask to be placed on their cancelation list. Whatever you do, remain upbeat and polite. Keep beating the pavement, and you will get your first gig. 
Try not to think of the people involved in your new business as contacts and prospects. Instead, think of them as friends and relationships. A successful business is about building and nurturing relationships. A local restaurant manager used to refer to me as her favorite musician. One of the places where I used to play twice a month was right on the water. When I walked around the corner of the building pushing my gear cart, the owner would greet me and say, "Hello, Jonathan. Welcome home." Those are the types of relationships you want to have with the owners, managers, bartenders, and staff. 
As Obi-Wan Kenobi said in Star Wars: "You have taken your first step into a larger world". I look back on the decade I played music full time with a smile on my heart. It was the best time of my life. So have a great gig, my friend. Have a great gig.